Choosing the right SD card doesn't have to give you a headache. In this article I break down the symbols and jargon used by SD card producers to make the decision simple.
SD Card Symbols Explained
SD cards are covered with numbers, abbreviations, and symbols. The following image shows what they mean.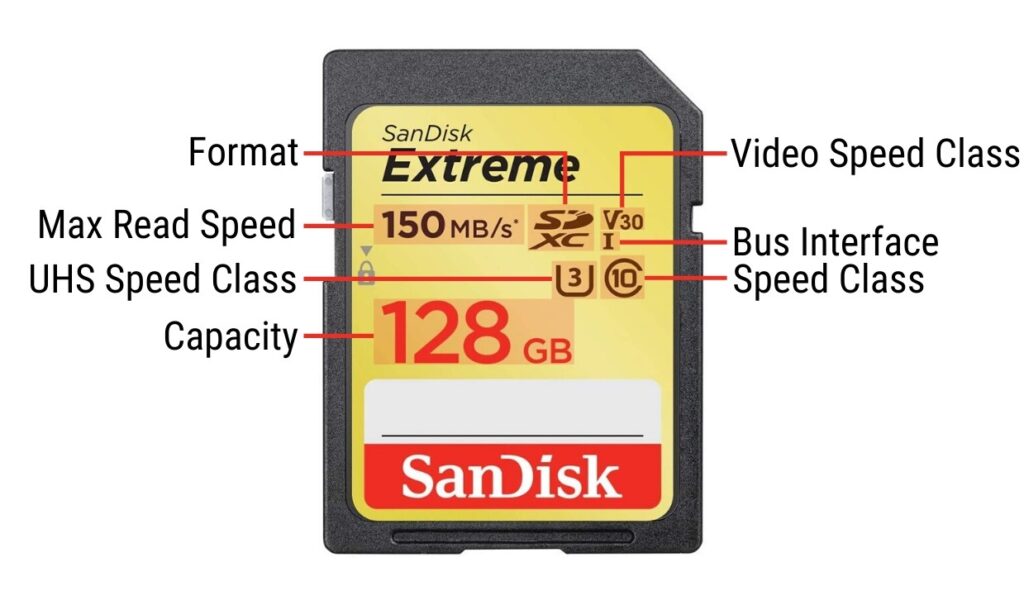 Format – This symbol just lets you know the standard of capacity the card has. This card's symbol indicated it is a Secure Digital Extreme Capacity card, meaning it has a capacity between 32GB and 2TB.
Max Read Speed – This tells you the fastest speed you can expect to read files already saved to the card. In this case, 150MB/s.
UHS Speed Class – Let's you know how fast the card can write (save data). I will discuss speed classes again later.
Capacity – Tells you how much data the card can store. In reality, the capacity is usually a couple gigabytes less than the number shown.
Video Speed Class – Also let's you know how fast the card can write. This is just a newer format for writing speed class.
Bus Interface – This symbol indicates the maximum speed the SD card can transfer data to/from another device. In this case, the symbol represents the UHS-I bus, which has a transfer speed of 50-104 MB/s.
Speed Class – This is yet another, older way of indicating how fast the card can write data.
What Size of SD Card is Right for You?
Choosing the correct size of SD card depends on whether you intend to take video, how many megapixels your camera sensor has, and how many pictures you want to take before needing to clear your card.
Video is the biggest factor, because it takes up the most space. You can determine how much space you need with some simple math. Video is recorded in megabits per second (Mbps), but capacity is in Gigabytes (GB). We need to convert. I already did this for a few popular video qualities.
1 Megabit (Mb) = 0.125 Megabytes (MB)
1 Megabyte = 0.001 Gigabytes
| | | | |
| --- | --- | --- | --- |
| Video Quality | Recording Speed | MB per min Recorded | Amount of Video (64GB Card) |
| FHD 30fps | 20Mbps | 150 MB | ~7 hours |
| FHD 60fps | 28Mbps | 210 MB | ~5 hours |
| 4K 30fps | 100 Mbps | 750 MB | ~1.4 hours |
So, if you need to record more than about an hour and twenty minutes of 4K video without changing your card, you'll want a higher capacity.
Pictures also take up space and some photographers like to take a lot. The number of megapixels cameras have is also increasing, which means the photos take up more space. Let's take a look at how much.
| | | | | |
| --- | --- | --- | --- | --- |
| Megapixels | Photo Size (JPEG) | Photo Size (RAW) | JPEG (64GB Card) | RAW (64GB Card) |
| 16 MP | 2-8 MB | 14-30 MB | 8,000-32,000 | 2,100-4,500 |
| 24 MP | 2.5-12 MB | 20-42 MB | 5,300-25,600 | 1,500-3,200 |
| 30 MP | 3-15 MB | 26-53 MB | 4,300-21,300 | 1,200-2,400 |
File sizes get even larger with higher megapixel sensors. The range provided is because there are different qualities of both JPEG and RAW images. For RAW, the range is from 10-bit to 14-bit. The JPEG range is for several levels of possible compression.
So, if you intend to take more than 1,200 14-bit uncompressed RAW images with a 30-megapixel camera, you will need more than 64GB of capacity.
I believe 64GB is the perfect size for most people. It provides storage to spare for all but demanding photographers and videographers.
Read vs Write Speed
An SD card has a read and a write speed. The read speed references how fast the card is at opening files it already has stored. Write speed references how fast the card can store information. The write speed is what matters when it comes to 4K video.
4K is written at 100 Mbps (12.5 MB/s), so for an SD card to be 4K compatible, it must be able to maintain a write speed of greater than 12.5 MB/s.
UHS Speed Class 1 vs 3
The SD Association created speed classes to provide minimum standards for SD cards so consumers can easily tell if a card will work for their desired use. There are two speed classes that matter for photography.
| | |
| --- | --- |
| Speed Class | Minimum Write Speed |
| UHS Speed Class 1 | 10 MB/s |
| UHS Speed Class 3 | 30 MB/s |
Because 4K requires a minimum of 12.5 MB/s write speed, only UHS Speed Class 3 SD cards are compatible. UHS 1 cards are perfect for photographers who don't intend to take 4K video.
Other Speed Classes
Along with UHS, there are also the legacy Speed Class and newer Video Speed Class. The following chart shows all the speed classes and their given symbol.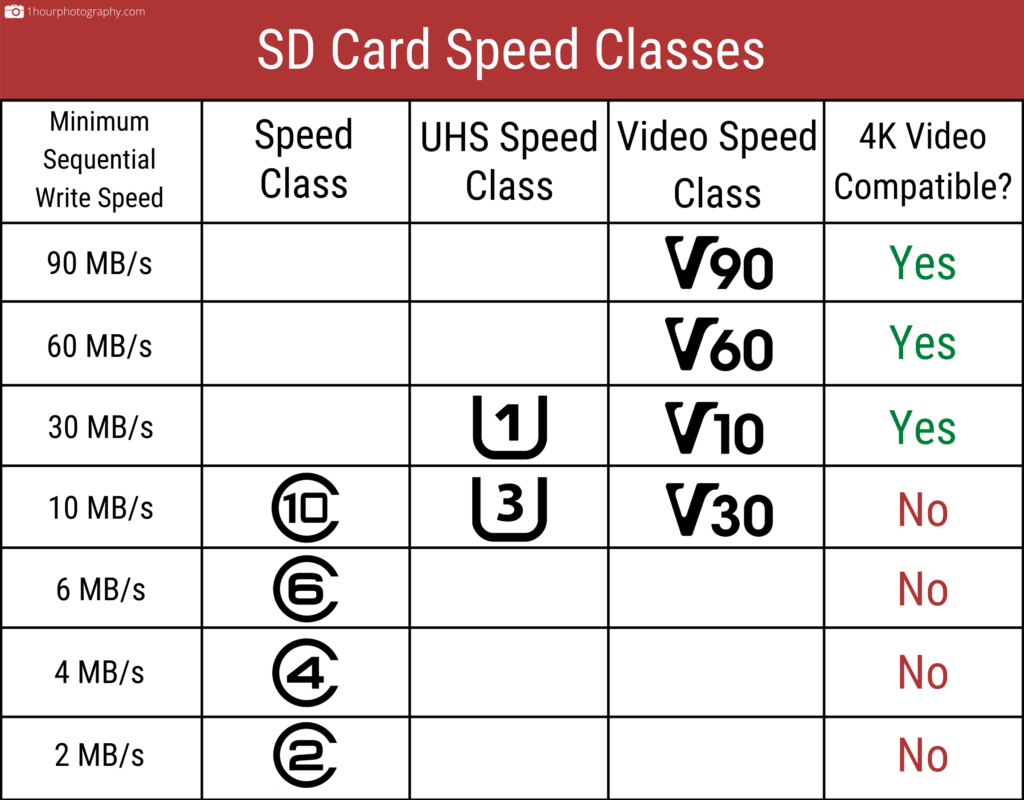 Reliability
There is no standard for reliability. You won't find a symbol that tells you the card will never fail. The easiest answer here is to go with a trusted brand with good reviews.
A Note on UHS-II
I see a lot of other websites recommending expensive UHS-II SD cards. These cards have two layers of pins to make the bus faster, but most cameras only have one layer of pins and gain no advantage for the much higher price. It is also unnecessary for all but those who need extremely fast burst shooting. This is why I don't recommend UHS-II SD cards.
Top Pick – SanDisk Extreme PRO 64GB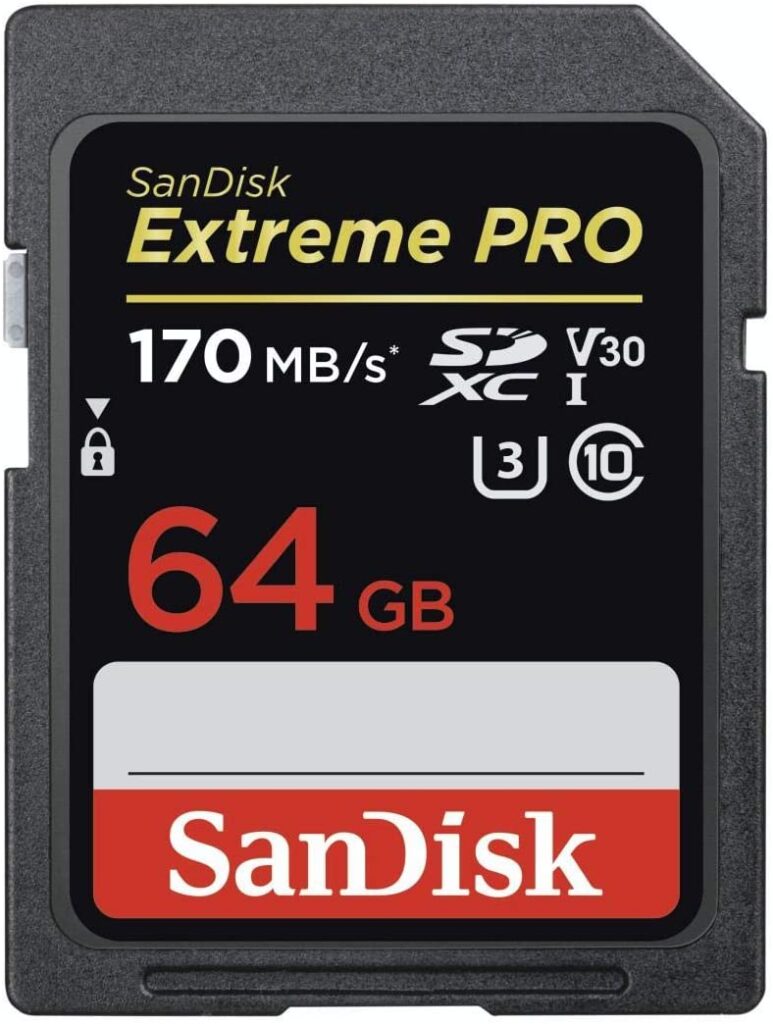 Key Features
UHS-I (50 MB/s Bus)
30 MB/s Write Speed (4K)
Up to 170 MB/s Read Speed
This is the card I put in my cameras. It is reliable, fast, perfect capacity, and inexpensive. It's also 4K video compatible. The Extreme Pro is capable of write speeds up to 90 MB/s for burst shooting. SanDisk also claims it's temperature-proof, waterproof, shock-proof, and X-ray-proof. I can't say I've tried the X-rays, but mine has held up well. There's not much more to say. SanDisk has been in the game a long time and there's a reason. I wouldn't want any other card in my camera.
Budget Winner – SanDisk Ultra 64GB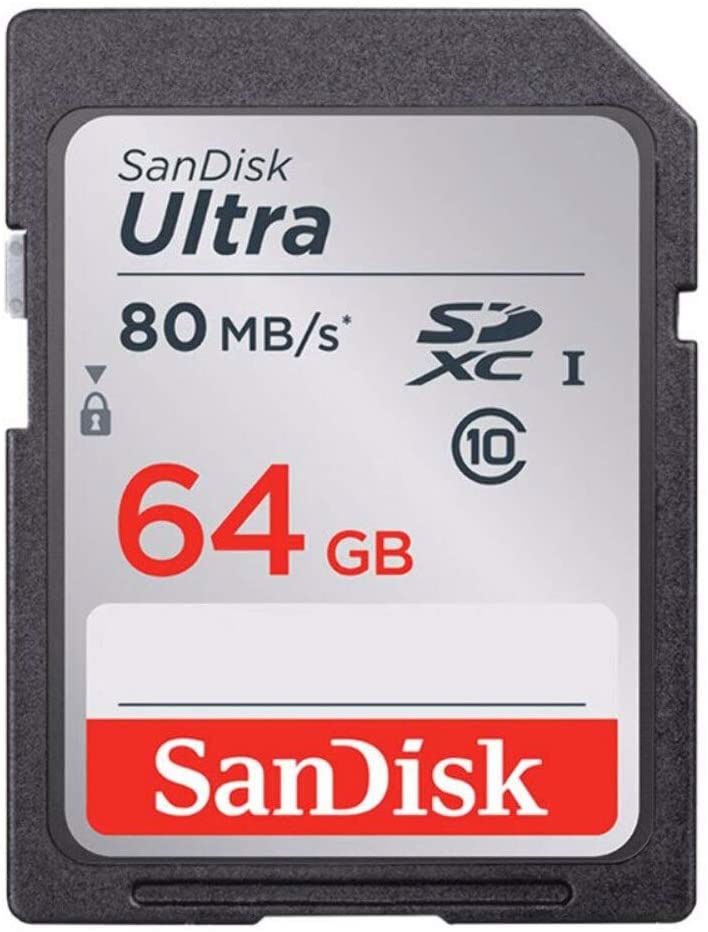 Key Features
UHS-I (50 MB/s Bus)
10 MB/s Write Speed (FHD)
Up to 80 MB/s Read Speed
This isn't the fastest card, but as long as you don't shoot 4K video, it'll get the job done. It's reliable too. You can take up to 7 hours of FHD video and thousands of photos (depending on your camera). This is a great workhorse for a great price.
Power User – SanDisk Extreme Pro 256GB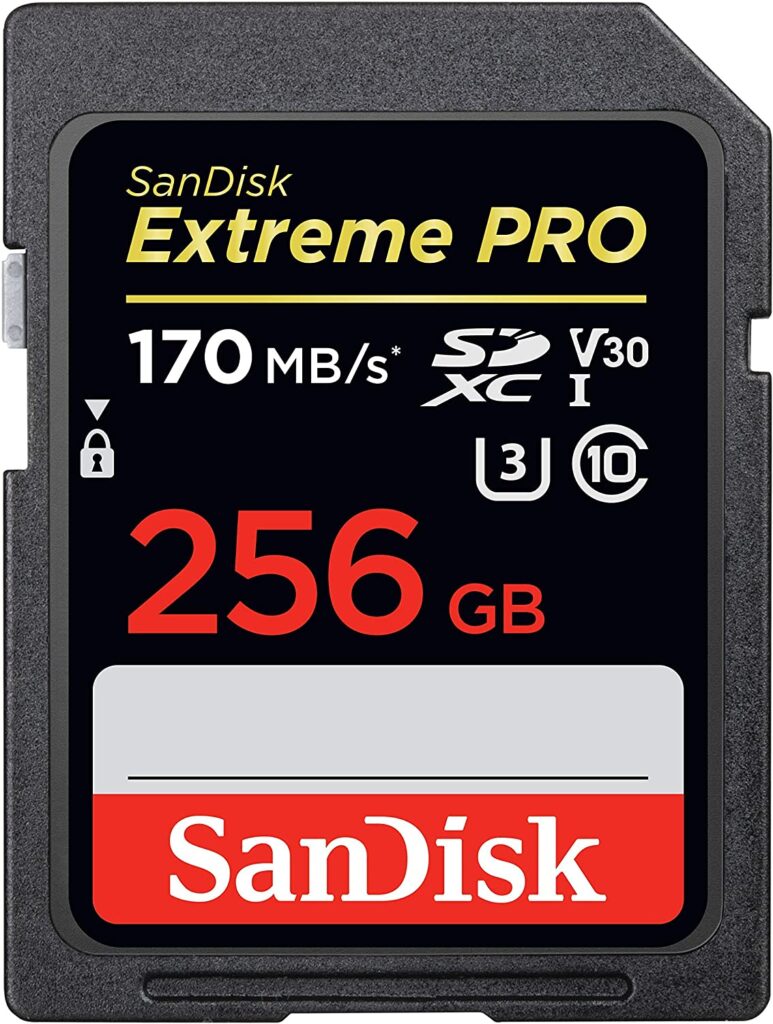 Key Features
UHS-I (50 MB/s Bus)
30 MB/s Write Speed (4K)
Up to 170 MB/s Read Speed
Yes, this is the same card I chose as the best, but in a higher capacity. This card really is the best. It's reliable and fast. This is just for the person that needs a little extra space. Strangely enough, this higher capacity version is significantly lighter than the 64GB card.