The Panasonic LUMIX DMC-G7 is an entry level mirrorless camera that provides greater value than many more expensive cameras. This is Panasonic's most popular mirrorless camera because of it's video capabilities, image quality, lightweight design, ease of use, and affordability.
When you buy the Panasonic LUMIX G7, it comes with either a 14-140mm or 14-42mm lens. This review will address both options.
Key Features
Lumix G Vario II 14-140mm (28-280mm Full Frame) Telephoto Zoom Lens with f/3.5-5.6
LUMIX G X Vario II 14-42mm (28-84mm Full Frame) Lens with f/3.5-5.6
4K Video (2160p/30fps, 1080p/60fps, 1080p/30fps)
16 Megapixel Micro Four Thirds MOS Sensor
4K photo burst shooting
Wi-Fi Image Sharing
Sensor
The Panasonic Lumix G7 has a micro four thirds (MFT) sensor. For cameras at this price point, there are two basic sensor types available: MFT and APS-C. APS-C is a larger sensor, which means better ISO performance at the same setting and less depth of field at the same setting.
There are some great advantages to MFT sensors. With a smaller sensor comes a smaller camera. That also means a smaller lens. MFT cameras are smaller and lighter than other cameras. This is great if you are hand-holding your camera for long periods of time or want to travel light.
This also means it's easier to find high focal length lenses. MFT sensors have a crop factor of 2x. For lenses, this means you multiply the focal length listed by 2 to get the full frame equivalent.
The ISO range of this camera goes from a base value of 100 (extended) to a high end of 25,600. For the size of the sensor, this range is way more than enough. I can't recommend going higher than ISO 1600 on this camera. After that point, noise affects image quality too much. Having a fairly low usable ISO range means you need a lens with a really wide aperture or artificial light added for low light and indoor photography. Neither kit lens is very wide.
The Lumix G7 has a 16 MP sensor. That many megapixels, which result in a 4,592×3448 image, provide enough resolution for everything except large prints. For reference, most computer monitors are 1920×1080.
Lens and Lens Lineup
I mentioned at the beginning of this article that this camera comes with one of two lenses: A 14-42mm and a 14-140mm. The bundle with the 14-42mm lens costs ~$450. The bundle with the 14-140mm costs ~$900. That's twice as much. If you want this camera and price is a big factor, you have your answer on which to choose. If price isn't the main factor in your decision, there's more to consider.
The G Vario 14-42mm f/3.5-5.6 ASPH definitely feels like a kit lens. The zoom range is average, the image quality is good, and the aperture range is understandably small. Make no mistake. This lens is no slouch. For the money you can take some amazing images and the zoom range only feels limited when trying to take pictures of people far away or getting super close macro shots. Overall, getting this the G7 body and this lens for $450 is an absolute steal.
As for the G Vario 14-140mm f/3.5-5.6 II ASPH, there is a different story. On the G7's MFT sensor, this zoom range is huge. The focus is really fast and image quality is great. This lens was even recently updated to be weather sealed. It's very popular with filmmakers. Overall, the quality of this lens is higher than the 14-42. That should be the case given the difference in price, but it's not the only reason to choose this lens. This lens costs $600 if you buy it separately. If you know you want a telephoto lens, you should buy the 14-140mm with the camera. It has the same zoom range as the 14-42mm, just with an extra 98mm tacked on. If you buy the 14-42mm to save money, but buy a telephoto anyway, you're not really saving money.
Panasonic also has a wide array of other lenses in their G Vario lineup that are compatible with this camera. If you're interested or ever become interested in a specific type of photography that requires a specialized lens, they have it.
It's important to reiterate that MFT cameras and lenses are much smaller than APS-C and full frame cameras and lenses. If weight and size are important to you, an MFT camera is the way to go.
Video Capabilities
This camera is a video beast and the video below shows it. It's capable of 4K/30fps and 1080p/60fps. If you need high resolution or action, this camera can handle it. The video quality on both lenses is tack sharp and the autofocus is relatively quick. The 14-140mm has the advantage of more focal range, which allows for more cinematic looking shots.
The image stabilization on both lenses is great. It's good enough for handheld video up to around 100mm. After that, even carefully holding the camera results in shakiness.
There is an audio jack on this camera, so you can add external microphones directly to the camera for recording. The preamps are quite good and result in quality sound. This is another reason why the G7 is great for video.
LCD Screen and EVF
The Lumix G7 has both an LCD screen and electronic view finder (EVF). The EVF is where you put your eye to see what the camera sees. The LCD screen on the back of the camera is touch screen and fully articulatable. This is a must have feature for video making, especially if you're vlogging. The touch screen isn't necessary for image quality but makes the experience of using the camera that much nicer. The touch options are very responsive and intuitive. The menu buttons are also easy to use. Being that the LCD screen is so great to use, I almost never use the EVF. It works fine and the rubber eye piece is comfortable, but I prefer the LCD.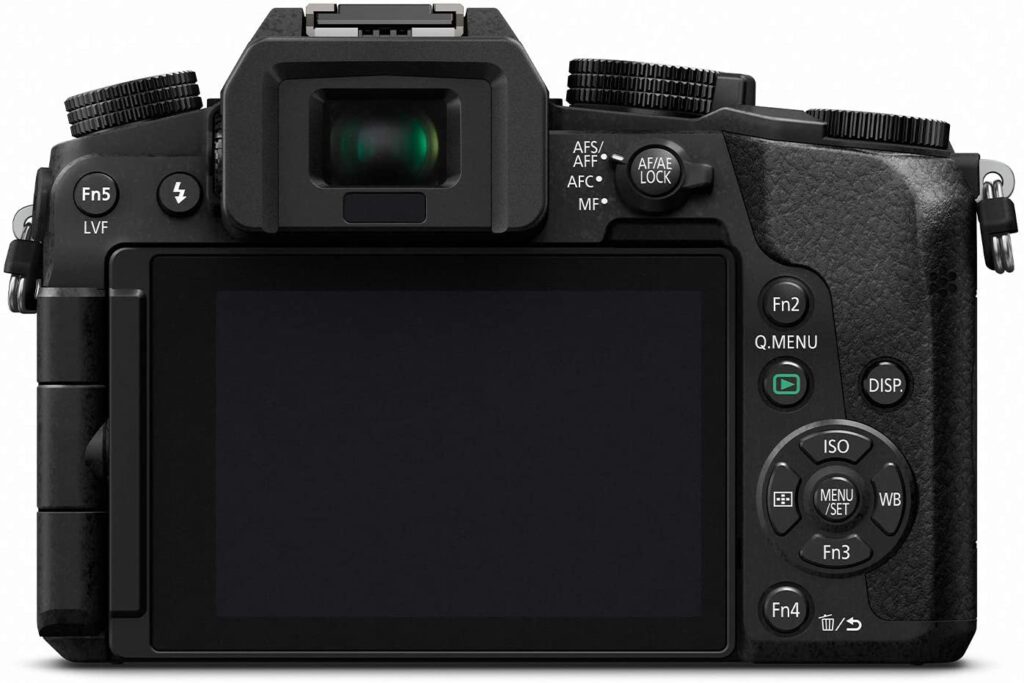 Design and Battery
The design of the LUMIX G7 is great. There is quite a bit of plastic, but it feels very solid. The ergonomics of the handle are well thought out. Even though this is a small camera, the grip protrudes enough to feel solid. All the buttons are clearly labeled and easy to figure out. The dials and buttons are all very tactile and satisfying.
Battery life on this camera is pretty good for a mirrorless camera. Panasonic states you can expect 360 shots on a single charge. This doesn't sound like much, but I haven't found it to be an issue. If you think that might be an issue, extra batteries can be bought inexpensively on Amazon.
The camera has microHDMI TypeD and USB wired connections, as well as Wi-Fi available for image transfer.
It's important to remember this camera requires an SD card. I recommend the SanDisk 64GB Extreme PRO.
Ease of Use
The button layout is simple and easy to use. The menu system is very easy to navigate. Nothing about this camera is confusing. Everything is clearly labeled and easy to understand. The feature set is not overwhelmingly large. It just does its job well.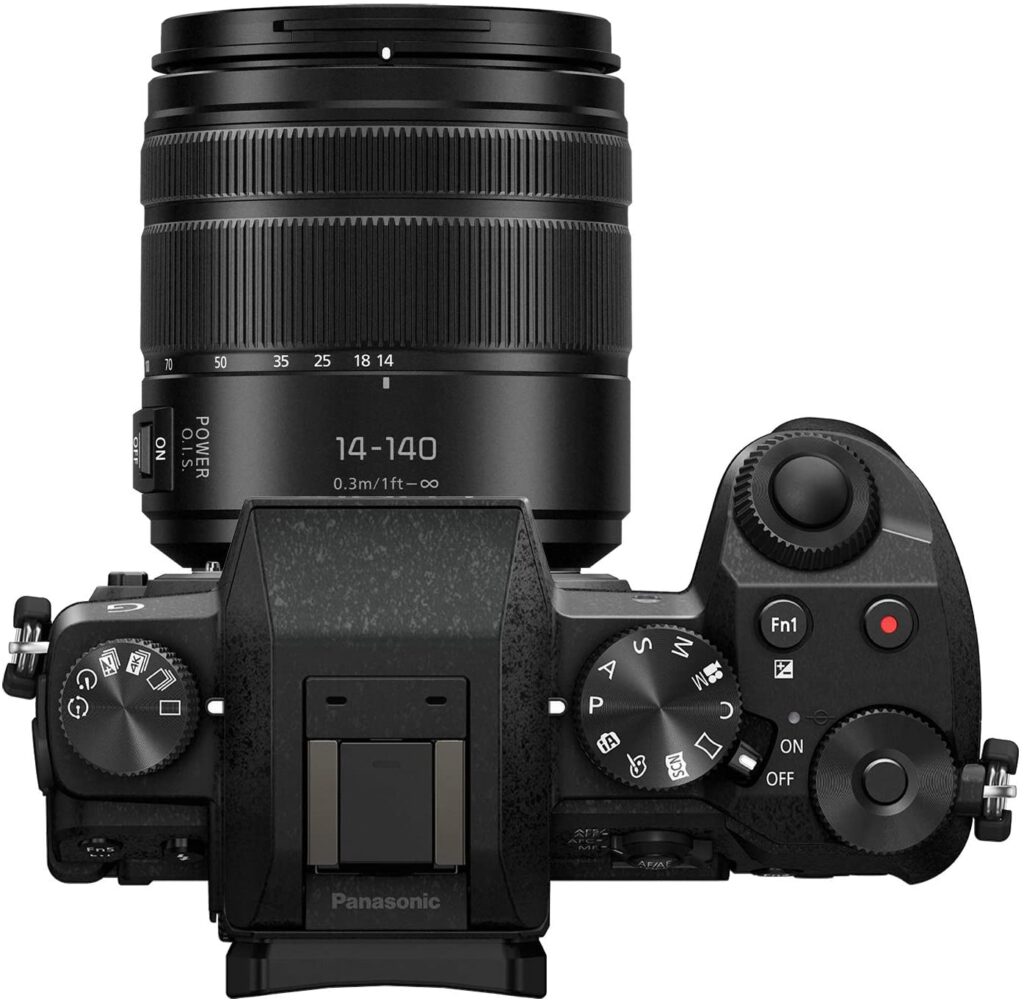 Image Quality
With new cameras coming out with image sensors in the 20-30MP range, some might think 16MP isn't enough. I have not found that to be the case. The dynamic range is good and colors ok. Those factors can easily be fixed with one of their shooting modes (I recommend expressive) or post processing. Sharpness is great if you give the camera enough light. Noise is an issue if you push ISO above 1600, but it's not hard to keep ISO much lower than that.
FAQ
Is it Weather Sealed?
The Panasonic Lumix G7 does not have weather sealing. I wouldn't recommend bringing your G7 out into even light rain.
Does the Lumix G7 Have Image Stabilization?
The Panasonic Lumix G7 does not have in-body image stabilization. The kit lens that comes with the Lumix does have image stabilization, however. Like I mentioned earlier, the image stabilization in the kit lens works at up to around 100mm (full frame).
Does the G7 Have Bluetooth?
The Panasonic Lumix G7 does not have Bluetooth capabilities, but does have Wi-Fi connectivity. Using Wi-Fi, you can connect to your smartphone to take pictures remotely or to share images directly from your camera to your phone.
Here's how to connect to your phone using Wi-Fi.
What Lenses Fit the G7?
Panasonic Lumix G7 uses the micro four thirds lens mount, meaning any lens with a micro four thirds mount will be compatible with the G7. Panasonic has a large line of micro four thirds lenses but there are also many other companies that make 4/3 lenses.
What SD Card Should I Get?
The G7 shoots in 4k. If you intend to shoot at that resolution you need at least a UHS-1 SD card. I recommend the SanDisk Extreme Pro 64GB SD card. It's what I use with my G7 and what I would use for almost any camera. If you'd like to find out why, check out my article on the Best SD Card For Photography.
Conclusion
For under the price, this camera is a fantastic buy. The pictures this camera takes are great, it's super lightweight and easy to use. The G7 really shines at video. It's one of the cheapest 4K cameras you can buy, and it does it well. This camera is a fantastic value.